Facilities & Resources :-
SFIS has vowed to provide future-proof facilities and resources as part of its international standard.
Class Rooms
Our spacious, well ventilated and fully air-conditioned classrooms serve as assembly areas where students receive instruction, plan and research in various disciplines. Work areas are equipped with supply and equipments storage for convenient access. Our Kindergarten classrooms are equipped with audio-visual aids and computer resources to enhance student participation.
Library
Our library is a home to an abundance of books, plus many other valuable resources. The most exciting and innovative area in the library is our audio-visual section to view and listen to the presentations prepared by our faculty to enhance the effectiveness of teaching strategies. In addition, our students will have access to educational CDs and DVDs with our staff facilitating them to become critical thinkers.
Cyber Zone
Our "Cyber Zone" has computers networked to accommodate 30 students to help them work collaboratively and excel in their projects. By providing restricted internet access to our students, we help the students to widen their knowledge horizon.
Kids Play Area
We have a spacious, age appropriate open play area for the physical and social development of the children. It is equipped with swings, slides, climbers, flexible spring rockers, merry-go-round, horizontal bars and an open area to run and play with ball.
Swimming Pool
A makeshift splash pool and a kiddies pool is perfect for the young children to safely splash and play. The main pool will be built to teach children swimming techniques and practice the strokes at an early stage to better optimize their time in water.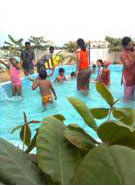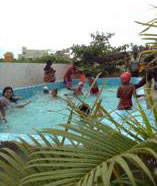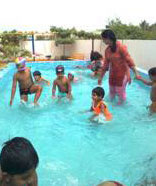 Resources
SFIS is a school where students come to believe in themselves and to discover their strengths to thrive in the ever changing environment with hope and courage. Our teachers are passionate and committed to teach the children the excitement of learning and exploring.
Our main aim is to nurture the cognitive, social and ethical development of the children. Our classrooms are rich with materials and resources for effective learning.
Every day, our campus is filled with different activities where children learn the art of relating historic, scientific, and artistic fields of knowledge.
We have different club activities such as,

Eco club
Children learn the importance of protecting our environment. Students love to pick vegetables and fruits from the garden that they grow inside the campus. Recycling is insisted inside the campus. Other activities include planting trees, green campaign etc.
Cultural Club
Children are taught music and Dance for an hour in a week.
Literary Club
Teachers help the students with their presentation skills to participate effectively on debates and to develop their oration skills.
Theatre Club
Students are encouraged to develop their creativity and imagination skills by performing plays, skits and story telling.
Arts & Crafts Club
Children are encouraged to convert the wastes into beautiful products like Candle holders using coconut shell; aero plane models using used bottles,
Culinary Club
Teachers help the children to cook without fire, as a part of this, children prepared fruit salad using the fruits from the garden they created and enjoyed sharing it with their friends.
Book Club
We encourage reading in our classrooms and discussions are held to develop their thinking skills. Hobbies are also encouraged through this club.
We also plan to have Math Club and Science Club for the children of grades 3 to 5 in the coming academic year.
We have global partner ship with a few UK schools to enhance our school's vision when we broaden our horizon with inter cultural ideas and exchange of teaching methodologies and interactive projects.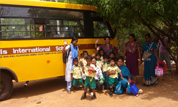 We arrange for field trips once in every three months to reinforce the topics that are taught in the classrooms. We also organize picnics for the children have fun outside the campus.